日本語版はコチラ
Tim Kojima is a BMX rider who is also active as a painter.
He painted the cover of the memorable MOTO-BUNKA Magazine Vol.1, also he had an interview in as well and this time we posted that interview on the website. About what he wants to be as an artist, painting and riding BMX.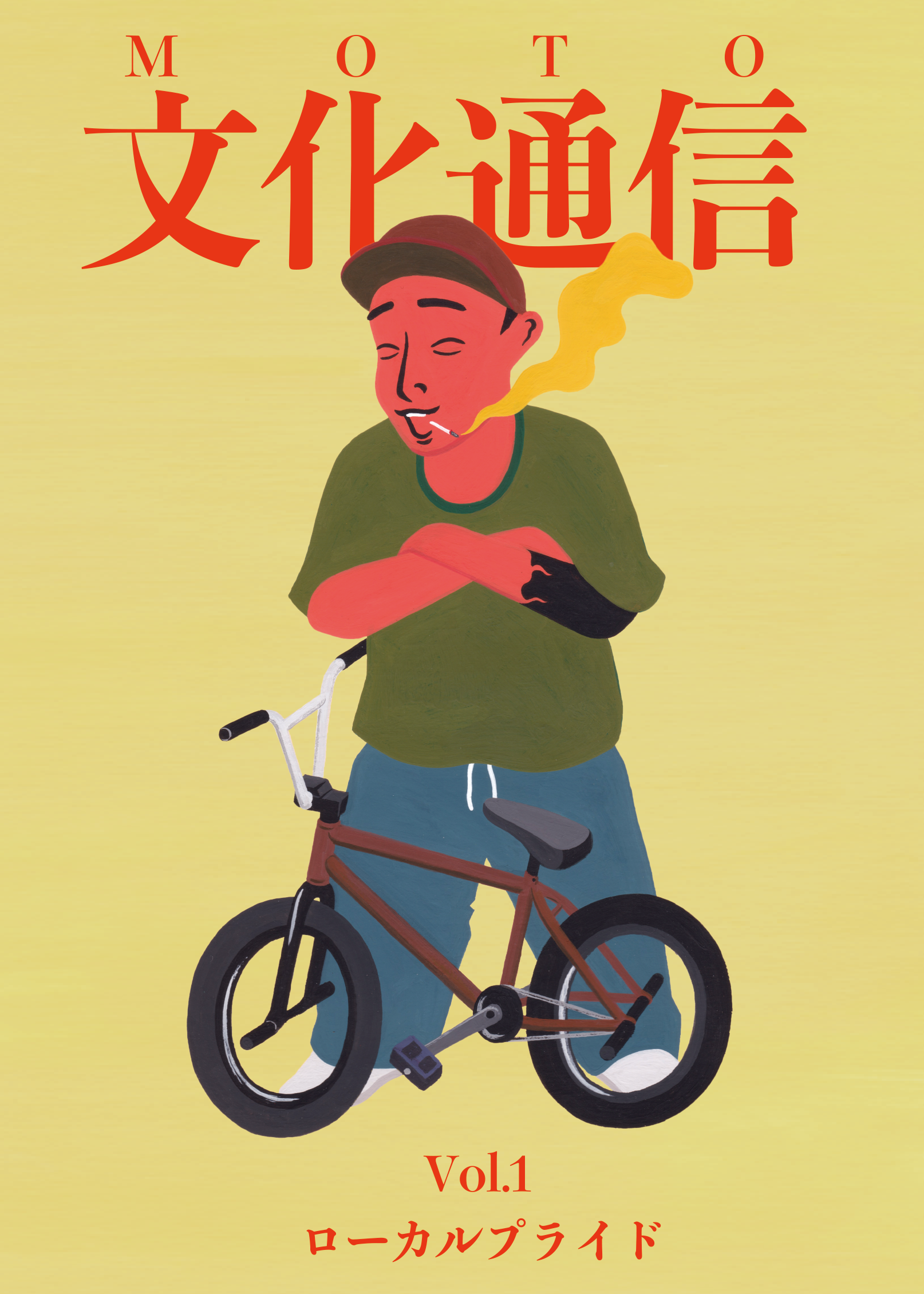 Q1. Please introduce yourself.
Painter, Born in 1994, from Hyogo.
I started riding BMX around middle school and from there street art caught my eye. That's when I started making my own art pieces.
I then realized how cool Japanese culture is while I was in Kyoto Seika University and studied abroad in San Francisco. And from this I started painting with the two themes, "Japan's unique street culture" and "Everyday life".
Now I am based in Kyoto, and I am actively working in and out of Japan from making murals, providing illustrations to restaurants and publishers.
Q2. I see you have had many solo exhibitions. Please tell me what was it that made you decide to make this into a job?
There wasn't exactly a fine line I just remember I've been drawing from a very young age.
It started from Ultraman (Japanese Action Hero) having arms and legs growing from it's head, then dinosaurs, animals, cars, and the list goes on. I was satisfied from drawing things that I was interested at the time or things that I wanted. I could be tripping with just that.
In grade school while everyone would be playing basketball outside, I would stay inside giggling and drawing by myself. I just loved drawing unconditionally.
I watched the movie "E.T." and was like "I want to fly with a bicycle!". My parents then bought me my own BMX because I got good grades at school and I started riding BMX when I was 13 years old.
That's when it all started.
I would ride everyday until it got dark and on weekends I would go to 662. When at home I would check out videos on the internet, during school I would stash "Ride BMX" inside my desk and on the back of papers of school work I was always drawing drawings of parks. The clothes I wore and the music I listened to changed. My whole lifestyle changed.
Through my new lifestyle I discovered street art and it caught my interest. For example, the graphics on tshirts and the tattoos that the riders and skaters had, the art work on decks and the graffitti at spots.
"Art" and "BMX" started to mix together.
That is when I dreamt "I want to make money with art" and went on to an Art college and studied drawing from the basics.

Q3. I see that in your art pieces "people" seem to be symbolic, how did this style come to you?
The style I have now is highly influenced from my experience in studying abroad in San Francisco.
There was a class I took, I had to choose one book from all the art book patterns that were lined up in front of the classroom. I from that book I had to copy a piece from that book.
From the many books I happened to find one art book of Ukiyo-e (Japanese art). I just casually opened it and it was mind blowing. I was mad at myself that I never realized it until then.
My mind changed from there and I told myself I will be proud of my roots and express my art as "Japanese".
And that is how I started to create pieces with the theme "Japan's unique street culture" and "Everyday life".
Q4. How would you describe your style in your paintings?
Easy and difficult to understand.
Q5. Are you thinking of making anything digitally?
Analog and digital, they both have good qualities. I've always enjoyed drawing by hand and I believe that there is something about hand painting that creates dimension and warmth to it.
Though, my style and what I want to express will change over time and I don't know what the future holds for me yet.
Q6. Throughout your experience in studying abroad in America, was there a difference in how Japan values art compared to overseas?
San Francisco was a city where Art and people coexisted well.
I had the opportunity to paint a mural in a restaurant in Chinatown and all the people who walked past would talk to me. Some people even appreciated me and thanked me for making the city beautiful.
Everyone was accustomed to looking at art or buying art. And ofcourse they had respect for the artists. It was a very charming place to express oneself.
Japan has japan's own qualities so I don't agree that everything should be Americanized.
But, I will say that the people who were coexisting with art seemed very lively.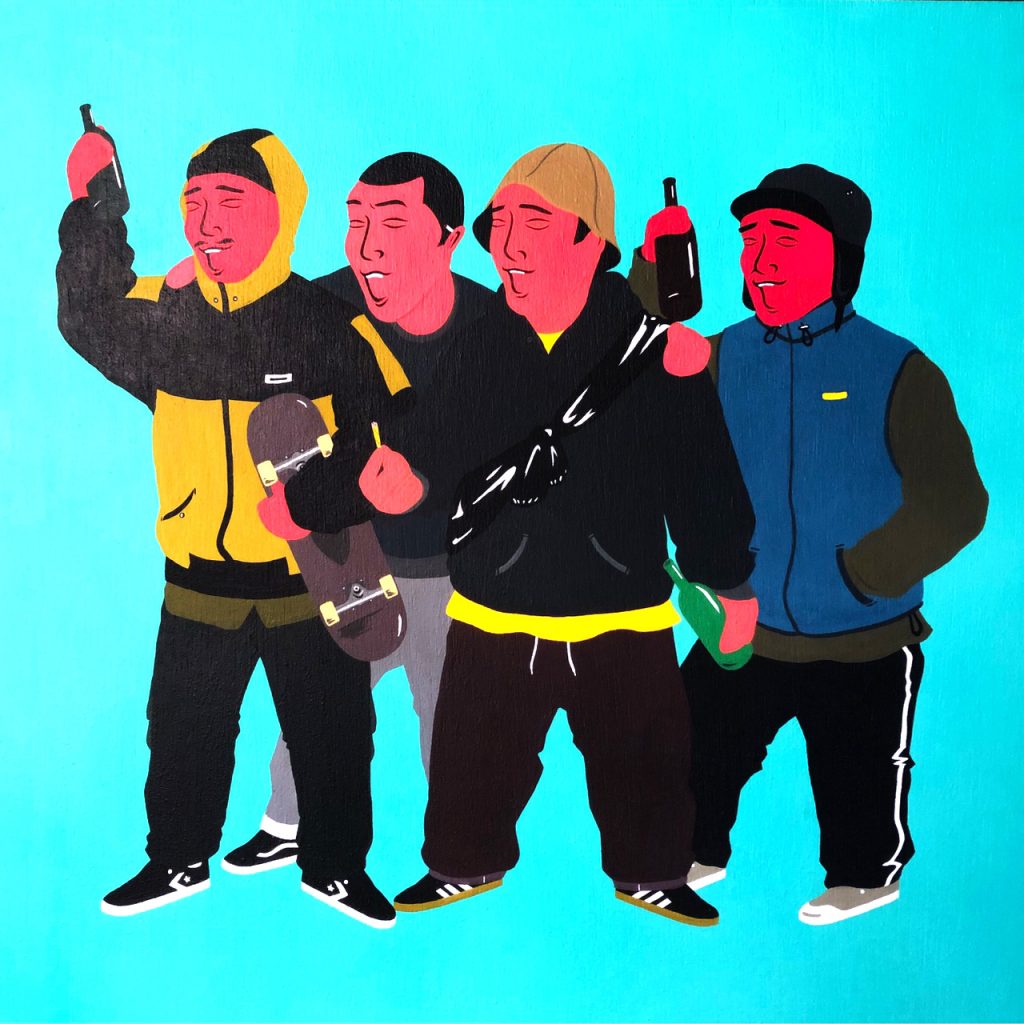 Q7. Is there a relationship between BMX and painting?
I think BMX and painting has the same process and that the output is only different. They are both simple yet instinctive.
Cruise around town and find a spot and think of a move that no one has done. Try over and over and make it, edit it, then put it up on the web or create a DVD and then it is at last a creation that remains in posterity.
This approach is very similar to painting.
Go out and meet people. I will remember a casual moment and snap it from my memory and through my filter I will transform it to an art piece.
It's like thinking, how are you going to cut this out and cook it and send it out to the world to see.
To actually see with my own eyes a moment and to see it consistently, that is how a new idea for the piece is born.
So, I believe that me continuesly being a BMX rider is what keeps me painting.
Q8. What do you aim for as an artist?
Right now there are many people who surround me. Painters, riders, skaters, DJs, rappers, everyone is doing something different but we come together to hangout at local parties and create new projects together.
And I hope more connections with other people will be made through my art.
Also, I want to live in the mountains with lots of animals and live in the sun.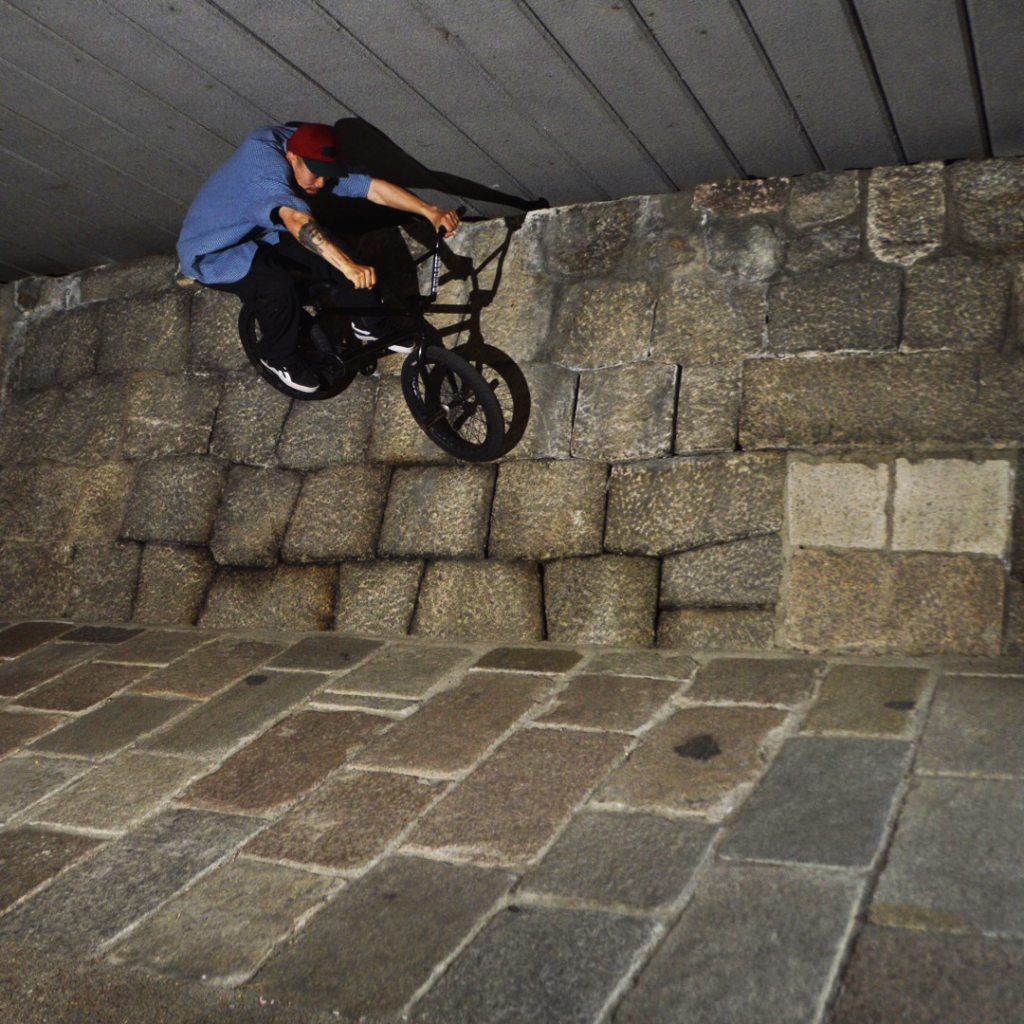 photo by @marcobmx633
2020/4/21 interview
Translator: Grace Yuri, Pegy